Monthly Archives:
August 2020
---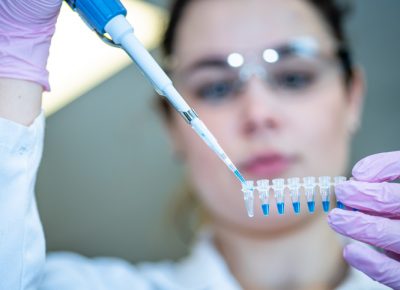 Have you heard about stem cell treatment for knee pain? Osteoarthritis (OA) is the number one joint disorder in the United States. It is defined as the loss of articular cartilage that lines the end of bones. According to the CDC, over 32.5 million adults suffer from knee osteoarthritis, including over 10% of males and 13% of females over the age of 60. As our population continues to age and live longer, those numbers will only continue to grow.
Knee Osteoarthritis Treatment
Typical symptoms of knee OA include pain, stiffness, swelling and loss of motion. The symptoms can cause limitations in activity that can significantly affect your ability to function and your quality of life.
When you suffer from knee OA, your body is unable to grow new articular cartilage. Treatments primarily focus on controlling the symptoms of OA. Initially, you might treat the symptoms with over-the-counter medications such as ibuprofen or acetaminophen. As symptoms worsen, prescription medications and treatments such as physical therapy can be added. More severe pain can be treated with injections, including corticosteroids or viscosupplements such as Orthovisc. When those treatments stop working, your only option left is to have the knee replaced.
Stem Cell Treatment for Knee Pain
Recent advances in research have provided an alternative treatment that can often postpone the need for surgery. Stem cells provide hope for treatment for a number of severe, degenerative conditions, especially knee OA. Stem cells are cells in the body that are able to regenerate themselves through cell division. They serve as a repair system for the body.
Early stem cells were harvested from donated embryos that were not used during in vitro fertilization. There was a lot of debate regarding the ethical use of these embryos. Recently, much of the research has shifted to focusing on adult stem cells, where there is no ethical debate.
Injecting adult stem cells into the area of injury allows for healing of the damaged tissue. The property of differentiation provides stem cells the ability to heal tissues that the body otherwise is unable to regenerate due to poor blood supply. The injected stem cells help attract the body's own stem cells to contribute to the healing process. In addition, stem cells have a broad spectrum of growth factors the help block inflammation, adding to the treatment's success.
Early research has shown promising results with stem cell treatment for knee pain in improving patient's pain and function following treatment. However, more research is needed to learn exactly how the stem cells work and if we are able to fully regrow the cartilage lost with knee OA.
Click HERE to learn more about the services offered for knee pain treatment at Jersey Shore Sports Medicine. To schedule a consultation with Dr. Sokalsky, please call us at 609-904-2565 or click HERE.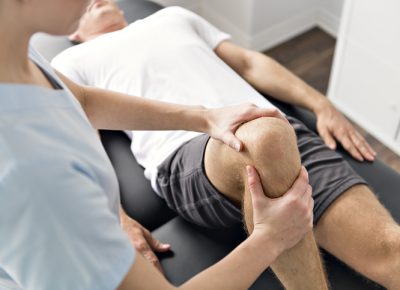 When you hear the term sports medicine, it commonly conjures an image of an elite athlete having their ACL reconstructed by an orthopedic surgeon, or a severe fracture fixed surgically with plates and screws. However, most injuries to the muscles and joints of our body do not require surgery.
Fortunately, there is an entire specialty dedicated to nonsurgical treatments for these types of injuries – Primary Care Sports Medicine. Primary Care Sports Medicine or Sports Medicine specialists undergo primary residency training in a field of general medicine, such as Family Medicine, and then additional fellowship training in sports medicine.
A sports medicine physician has the additional training to treat most injuries to athletes, as well as weekend warriors and even patients who lead more sedentary lifestyles. Sports medicine physicians can diagnose and direct the treatment of sprains and strains to muscles, ligaments and tendons. They can also treat chronic conditions such as joint arthritis.
Non-surgical treatments that can be provided by sports medicine physicians include cortisone injections, viscosupplement injections, manipulative therapy and medications. They can also prescribe additional treatments such as physical therapy. Many nonsurgical sports medicine physicians additionally offer regenerative treatments such as platelet rich plasma injection and stem cell therapy.
With a background in general medicine, nonsurgical sports medicine physicians are also able to address non-orthopedic injuries like concussions. They are also able to help recognize the signs of underlying medical conditions that can cause pain or otherwise affect activity performance. For example, young, female athletes, particularly those in sports like figure skating and gymnastics, can be at risk of stress fractures due to physiologic changes from poor nutrition. Another example is athletes competing in cold weather can have asthma-like symptoms such as coughing and shortness of breath while training without having true asthma. These are conditions that if recognized and treated early can significantly improve performance and keep athletes on the field by avoiding injury.
Nonsurgical sports medicine doctors treat most "orthopedic" injuries without the need for surgery. In addition, they can help monitor the overall health of athletes, identifying potential medical problems that could be lurking under the surface.
And, remember sports medicine physicians are well suited to provide comprehensive medical care for the "non-athlete" as well, and are excellent resources for the individual who wishes to become active or begin an exercise program. For the "weekend warrior" who experiences an injury, the same expertise used for the competitive athlete can be applied to return the individual as quickly as possible to full function.
Common examples of treatment provided by nonsurgical sports medicine physicians include:
Acute injury treatment (sprains, strains, knee & shoulder injuries and fractures)
Overuse injury treatment (rotator cuff, tendonitis, osteoarthritis)
Concussion (mild traumatic brain injury)
Athletes with chronic or acute illness (such as asthma)
Nutrition and performance issues
Exercise prescription for patients who want to increase their fitness
Injury prevention
"Return to play" decisions
Recommendations on safe strength training and conditioning exercises
Healthy lifestyle promotion
Interested in learning more about services offered at Jersey Shore Sports Medicine? Click HERE.
To schedule a consultation with Dr. Sokalsky, please call the office at 609-904-2565 or click HERE for an appointment.