A Golfer's Guide to Preventing Injury on the Green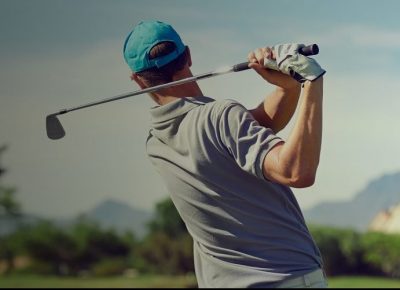 With golf season in full swing, so is the potential for injury. Although golf is considered a low-intensity sport that almost anyone can play, there are still risks involved. Contrary to popular belief, golfers are prone to experiencing injury more-so than even some of the roughest and toughest athletes out there. In fact, one study by the National Health Statistics Reports found that injuries in recreational sports such as golf occur more frequently than those in team sports like rugby and hockey at a rate of 1.8/1000 versus 1.5/1000!
With the warmth and summer sunshine upon us, everyone is grabbing their clubs and hitting the links. However, many are not taking the proper steps to prevent some of the most common ailments known to golfers such as injuries to the elbow, shoulder, hip and back. So, what can golfers do to prevent complications as they get back into the swing of things? Here are a few suggestions:
Technique: The basis of a strong golf game is proper swing. Poor swing can put abnormal stress on the muscles in the arms, shoulders, back and hips. Over the course of a round or multiple rounds, this can lead to sprains, strains and overuse injuries like tendinitis. Correcting your form and being aware of it as you go along will help prevent these types of injuries.
Training: Even with the best technique, your body needs to be able to handle the rigors of a round of golf. Training your muscles to perform for 18 holes is essential for keeping up – and staying healthy. For this reason, undergoing professional evaluation with tools such as the Titleist Performance Institute's Functional Movement Screen can identify weaknesses and help develop an individualized training regimen.
Warming Up: Studies have shown that the average golfer spends less than 10 minutes warming up, not nearly enough time to get both mentally and physically prepared for a round of golf. Getting to the course early enough allows for ample amount of time to complete a proper warmup routine, which should include light stretching to loosen up the body and time to work through your entire bag of clubs, from putter to driver. While working through the bag, envision different scenarios you might face during the round and your mind will be warmed up just as much as your body!
Back to Basics: Not all golf injuries are musculoskeletal in nature. Be prepared for the environment you will be playing in! Dress appropriately for the weather to avoid overheating, apply plenty of sunscreen to reduce the risk of sunburn, and be sure to drink plenty of fluids in hot weather.
Following these simple tips may help prevent some of the most common injuries golfers suffer from. However, if you do experience persistent pain, don't wait. Making an appointment with a sports medicine specialist to get an accurate diagnosis and treatment plan can help prevent chronic injury and get you back on the green faster than you might expect.
Dr. Brian Sokalsky is the physician at the helm of Jersey Shore Sports Medicine in Somers Point and Lanoka Harbor, New Jersey. Dr. Brian is a board-certified family physician with special training in sports medicine and utilizes treatment options at the forefront of non-surgical healing, as well as holistic approaches, to treat his patients. Whether treating a star athlete who was injured on the field, getting a weekend warrior back into the game, or counseling a patient on medical weight loss, Dr. Brian is known to take the thoughtful, disciplined and customized approach that makes the difference. Serving as an active member of the community, Dr. Brian provides game coverage to local high school sports teams and club rugby teams. To find out more or to schedule an appointment, call (609) 904-2565 or visit jerseyshoresportsmedicine.com.